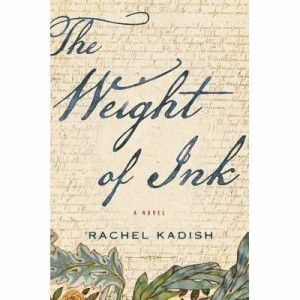 Kadish's fourth novel is a stunning story that braids the tale of a modern-day historian with that of a seventeenth-century woman who was brought to London by a rabbi when her parents died in Amsterdam after fleeing the Inquisition in Spain. It's a brilliant fusion of genres: historical fiction, women's fiction, thriller, mystery and romance.
Helen, a specialist in Hebrew history on the verge of mandatory retirement and in poor health, is contacted by a former student about a cache of documents found in the London house he and his wife are renovating. She enlists the aid of Aaron, a brash American graduate student who's hit a roadblock with his PhD thesis.
This unlikely duo are startled to find that the books and papers do indeed date from the 1650s and 1660s, the library and letters of Rabbi HaCoen Mendes. But it is the identity of his scribe, signed merely as "Aleph" that captivates them. Helen finds evidence that Aleph may be a woman and the literary hunt is on as, vexed by conservators and rival historians, not to mention their own thorny relationship, the two try to learn more about Aleph.
These chapters are interspersed with the story of Ester Velasquez as she discovers the terrible beauty of learning. When the blind rabbi asks her to read to him and write letters for him, she becomes hungry for more, reading widely in philosophy and beginning herself to write her thoughts—things that were not allowed for women at that time.
This extraordinarily well-researched book brings to life the world of London just before and during the plague years and great fire. One detail stood out for me: that several kinds of ink were used, one of which—iron gall ink—disintegrates the paper so that hundred of years later the letters show up as empty space on a page.
This image fuels the title: the weight that ink—reading and writing—places on Ester's life, making her question her religion and the constructs of society, making her unwilling to marry since that would mean giving up the world of the mind for the daily round of chores.
It also speaks to the silence of women in that time. As Virginia Woolf famously wrote in her essay "Shakespeare's Sister", where she imagines a sister with his genius, "any woman born with a great gift in the sixteenth century would certainly have gone crazed, shot herself, or ended her days in some lonely cottage outside the village, half witch, half wizard, feared and mocked at."
There's a story here for everyone. You've got a literary puzzle like A.S. Byatt's Possession, a thriller as time runs out for Ester and for Helen and Aaron. There's the social history of Jewish London at the time, fractured between upper-class Portuguese and working class Tudesco (German, meaning Ashkenazi) Jews. You've got insights into the different burdens placed on men and on women, both now and in the past. There's fascinating information about conserving documents and philosophy and bountiful insight into the human heart.
For me, much as I enjoyed Ester's chapters and the evocation of seventeenth-century London, curious as I was as to how she could possibly reconcile her warring nature with itself and society, it was Helen's chapters that most captured my attention. We do not often enough read about a woman's relationship with her work (or a man's for that matter, outside of writing). Helen's own history, her concern for not just the things but the lessons of the past, her education of this her last student: these combine to show what a woman's life-work can be.
This is a long book, but it's worth taking the time to sink into it. And as you get further in, you'll find the story accelerating such that you will hardly bear to set it aside even for a moment.
Have you read a novel that effectively fuses literary genres?