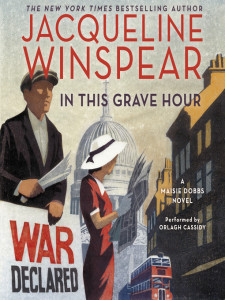 As I've mentioned before here and here, I'm a fan of the Maisie Dobbs mystery series. Besides liking psychologist/investigator Maisie herself a lot—she combines integrity with intelligence, a strong work ethic with a warm heart—I especially like the way Winspear includes the historical context. As the author says:
I wanted to focus on the impact of extraordinary times on the lives of ordinary people. And I wanted to use the mystery to give form to the journey through chaos to resolution—or not, as the case may be.
When we first met Maisie, she was rebuilding her life after serving as a nurse in the front lines of WWI. This installment, the 13th, begins with Neville Chamberlain solemnly declaring the start of WWII.
Echoes of WWI and its long tail of consequences pervade this story as Maisie tries to find the assassin of a former Belgian refugee before he or she kills again. As several characters remark, who would take a life at a time when there is so much fear of the killing to come? And why would anyone want to kill this harmless man?
I am reading the books in order; some I've read before but I wanted to fit them into the larger framework. It's been said that a series is like a television show, with each book equating to an episode. The struggle for the writer is to include enough information that a new reader won't be lost without boring someone who's read the other books.
It's a little hard for me to judge, since I'm not coming to it as a newbie, but I think this book would work as a stand-alone. Winspear adds just a sentence or two of background as needed. However, I think the reading experience is considerably deepened by having read the previous books. Most of the characters have appeared before, so prior knowledge helps you better understand their actions and reactions. Plus your emotional commitment to the characters is much greater. For example, some of the children you've seen tumbling about like puppies are now old enough to fight in the war.
There are some new characters here as well as old familiars. Among them are Anna, a little girl who has been evacuated from London along with the other "Operation Pied Piper" evacuees, but who has no papers. No one knows who she is and she herself refuses to speak, just as she refuses to let go of her small case and gas mask.
Anna and two other children are billeted at Maisie's home in Kent. Maisie, who lost her husband and baby only three years previously, finds her heart turning toward the child even as those around her warn that she will only be hurt again when the girl returns to her family.
Maisie also becomes involved in the families of other former Belgian refugees as she pursues the killer, even as their former country faces new devastation.
The threads of the story are tightly woven. What makes a person kill? What makes a family, holds it together, and releases it? How does the past continue to shape the present?
I only have one quibble with this book. Maisie repeatedly uses the expression "It begs the question . . . " incorrectly. She means "It raises the question . . . " Where was Winspear's editor? This common error stood out like a starburst in the midst of the otherwise delightful prose.
The perspective of ordinary people during this liminal time, when war has been declared but the fighting not yet begun, is fascinating. One mother travels with great hardship to Kent to reclaim her sons and take them back to London, even though the schools are closed, even though bombs are expected to fall. But who can imagine bombing before it happens? What parent can bear to put their children on a train to some unknown place with unknown people? I don't know if I could have done it.
Chaos may not always be resolved, though some small part of it may be. We do what we can.
Have you read any of the Maisie Dobbs books?