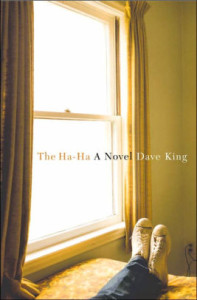 I'd never heard of ha-has being installed here in the U.S. I've seen them in England, most dating from the Victorian era: walls set into a slope, separating high ground from low, like a river lock. The purpose is to keep the cows or sheep where they belong without disturbing the view. When you look out from the house, all you see lovely green lawns stretching into the distance, under the same principle of having the servants face the wall and pretend to be invisible when the lords and ladies pass them.
Here the ha-ha is at a convent, hiding the interstate that runs by their border. Howard works at this convent, mowing lawns and doing other odd jobs. Mowing the ha-ha, which is forbidden, is one of Howard's few joys. Injured in Vietnam, only sixteen days into his first tour, Howard's brain injury has affected his language abilities. He can hear and understand but cannot speak intelligibly, nor can he read or write. People who know him know that his intelligence is unaffected, but strangers often treat him as though he is not all there.
One person who knows him well is Sylvia, his first love, now a single mom with a drug problem. As the book opens, she is heading to rehab, asking Howard to care for her nine-year-old son Ryan. It would be a challenge for anyone to take in a child they barely know, but it is much worse for Howard given his disability and lack of experience with children.
One thing I like about this book is that we stay in Howard's point of view throughout. Since any dialogue is going to be pretty one-sided, that means we get a lot of Howard's interior monologue. This could have been a disaster, but the author has calibrated Howard's voice perfectly—moving between exposition, self-pity, anger, bafflement and a range of other emotions—while making sure that there is plenty of action.
The only exception is near the end, when Howard is heading towards a crisis. I found this last part a bit unrealistic. It felt as though the author was straining for a big film-worthy climax instead of staying true to the characters.
The characters are another thing I like. All of them, even the minor characters, are well-drawn and multi-faceted. I was especially intrigued by Sylvia. Since we see her through Howard's eyes, we rarely see him criticising her but we do see the effect her actions have on him as she ricochets from caring mom to selfish druggie to careless narcissist. It shouldn't work, but it does. I found myself loathing her one minute and feeling sorry for her the next.
Also, Ryan is completely believable as a child in this situation: sometimes resentful and reticent, other times reluctantly affectionate. This nuanced portrait alone is worth the price of the book.
There's a good bit of humor, too, especially between Howard and his three housemates. It's Howard, though, who carries the book. Maintaining a strong and absorbing voice throughout a long novel is a real accomplishment, especially when so much of it must be in that voice.
I found much to consider here, about communication and families and disability. I thought about all the things we pretend not to see, all the things we try to wall out and ignore.
What do you pretend not to see?