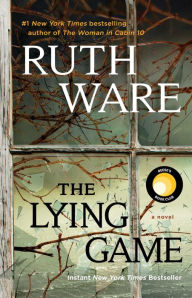 More a suspense novel than a mystery, this 2017 novel from Ruth Ware starts with a body turning up by a tidal estuary on the south coast of England. The next day Isa Wilde, living in North London with her husband and six-month-old daughter, receives a text saying simply "I need you."
To her husband's baffled dismay, Isa immediately packs up her baby and leaves for the village of Saltern, where 17 years earlier she had briefly attended a boarding school. There she'd become tight friends with Kate, Thea and Fatima, getting up to all kinds of mischief, sneaking cigarettes and alcohol, slipping out at night.
They also played what they called the lying game. The game had many rules, including points for how persuaded the unfortunate recipient was by their lies. That summer the four of them formed a bond strong enough to bring them back all these years later.
Kate, who sent the text, still lives in Saltern, in a ramshackle building called the Tide Mill on the other side of the Reach—the local name for the estuary—from the school. Her father Ambrose had been the art teacher at the school, enabling Kate to board there. His relaxed bohemian ways left the girls free to escape school regularly to make their way across the Reach to the Mill where they let loose as only 15-year-old girls can, swimming and drinking and exploring.
And confronting something that not only could blow the four apart from each other, such that they had not seen each other for 17 years, but was so explosive a secret that fear of it had haunted them all that time.
The book is more psychological suspense than the runaway train of a thriller. I appreciated the insight into the characters, all of whom we encounter through Isa's eyes. I was fascinated by the changes in the young women. Fatima has become a doctor and begun practicing her faith, disconcerting the others with her hijab and refusal of alcohol. Kate has become an artist like her father, but barely making enough to hold body and soul together. Thea's intensity and tendency to anorexia have only increased, while Isa has settled happily into marriage, motherhood, and a civil service job. They all have a lot to lose.
As a writer, I appreciated Ware's sure-footed ability to take the reader in and out of the past without ever leaving us floundering, wondering what time period we were in. Good transitions and textual clues ensured that we always knew which time period we were in.
I also was impressed by her use of setting. The details we encounter through Isa's eyes not only create vivid images of the places themselves but also add to the atmosphere and underline themes throughout the book. For example, at one point Isa is describing Saltern village and mentions the fishing nets hung on many of the cottages, presumably to add to the village's appeal as a tourist destination. However the drooping, grey webs of netting make her wonder how anyone could bear to live enclosed by them.
Another example is the Mill itself. Remembered as a lost paradise, it has decayed through years of neglect to the point where it is not only falling apart, but is actually sinking into the sand. It has gotten so bad that during some high tides the electricity shorts out and the footbridge over the millstream to the land beyond is flooded.
Too much? Readers' tastes vary, but I enjoyed how Ware could take clichés such as a house built on sand, being caught in a spider's web, or crossing a treacherous bog and make them work, creating an intense atmosphere and increasing the suspense. The twists and turns of the story make the plot exciting, but more importantly reveal new layers of all of the characters, large and small.
What novel of psychological suspense have you read lately that you'd recommend?