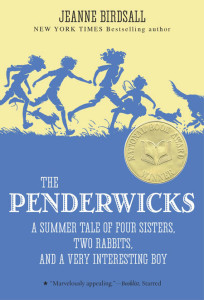 There is nothing like a good children's book when you want to take a little break from the world. What seemed like a monolithic category when I was a child—probably because I read everything on the children's side of the local library—is actually broken into picture books, middle grade (MG) or juvenile (ages 8-12), and young adult (YA) (ages 13-18). Of course, there are gradations within each of these categories; a story aimed at an eighteen-year-old may not appeal to a thirteen-year-old.
There are also differences other than age at play. YA books are longer and have fewer restrictions on content. More interesting to me is that while YA characters are able to see the world through the eyes of others and to face real-world problems, characters in MG novels are quite different. Like children of that age, they are still the center of their universe and likely to see every setback as the end of the world.
Jeanne Birdsall's modern series about the Penderwick family is classified as juvenile/MG. It is a delightful romp, reminding me of some of the best books of my own childhood.
In this first book, the four Penderwick girls and their father take a cottage unseen for their summer vacation. It turns out to be on an estate called Arundel owned by a snooty woman named Mrs. Tifton, whose formal and conventional life is turned upside down by the influx of rambunctious girls.
Twelve-year-old Rosalind feels the responsibility of being oldest keenly. Skye, the next youngest, is pure tomboy, determined to go her own way. Then comes Jane who at 10 has her head in the clouds when she isn't writing flamboyant novels about an adventurer named Sabrina Starr. The youngest is shy, four-year-old Batty who wears butterfly wings all the time and communes with Hound, the most beloved of dogs.
While tunneling though a hedge in the forbidden Arundel gardens, Skye runs into a boy—literally—who turns out to be Mrs. Tifton's son. Jeffrey quickly becomes an honorary Penderwick and the girls rally to his cause when Mrs. T. and her boyfriend, the Dreadful Dexter, decide to send Jeffrey to a military boarding school.
Individually and collectively the children scamper through the story, having adventures and escapades. Although I've enjoyed the post-Potter deluge of magical childrens' advetures, I especially liked that the only magic here is the ordinary magic of childhood, when so much of the adult world seems incomprehensible.
Most of all I loved the family rituals the girls have developed, such as calling a MOPS (meeting of Penderwick sisters) or understanding the responsibility of being the OAP (oldest available Penderwick). Having grown up in a large family, much of this rang true for me, as did the way the sisters sometimes had to transcend their different personalities to respond to various crises.
One of my adult sons reads across all the categories of children's fiction. They are a good balance for his serious reading and his often stressful job. One aspect that he particularly appreciates in them is the focus on right and wrong, good and evil.
In this book, while we clearly start with Mrs. Tifton and Dexter as thoroughly evil, by the end they have acquired more subtle shadings. They seem more misguided than cruel. When it comes to Jeffrey and the Penderwick girls, their essential goodness doesn't prevent them from behaving badly at times.
Also, there are shadows in this lovely world. Their mother's death when Batty was born affects the girls just as Jeffrey's missing father affects him, though these griefs do not weigh heavily on the story: a difficult trick that Birdsall pulls off beautifully. A missing parent is a common trope in children's stories. Being left unprotected, or less protected, enables the child to be the protagonist, to be the one to solve the problem, instead of expecting an adult to take care of it.
This book and the others in this series are a delightful reminder of my own childhood, back in the days when children were tossed out of doors to entertain themselves without parental oversight. We got into trouble and found our way out of it. And even then I loved stories like this one about mischievous but good-hearted children.
Is there a children's book that you enjoy reading as an adult?