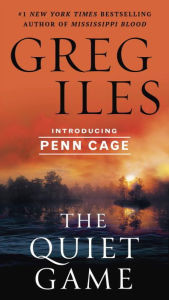 Prosecutor turned bestselling novelist Penn Cage is still reeling from the death of his wife. He's also worried about their young daughter, who can't feel safe unless she is physically touching her father. Struggling to cope, Penn decides to return to Natchez, Mississippi, to his parents' home, knowing they will be thrilled to have their son and granddaughter stay as long as they want.
Though his parents' home seems at first the safe haven Penn is seeking, he quickly finds himself groping through a fog of secrets and the consequences of the past. Something isn't right at home, but no one will talk about it. Even when Penn discovers his father, a (mostly) beloved GP, is being blackmailed, he has trouble persuading his father to give him more information and let him help.
While pursuing that investigation, Penn almost accidentally reopens a 30-year-old murder case, one that almost everyone in town wants to keep buried. He works with Caitlin Masters, a young woman he met and chatted with on the flight home and is shocked later to discover is the publisher of the local newspaper. Feeling betrayed, he is not sure he can trust her, despite being attracted to her.
Even with attempts on his life and threats against his parent and daughter, Penn keeps digging. He fired by the suspicion that a certain judge might be involved. A powerful man in Natchez, the judge viciously attacked Penn's father just before Penn left for college, damaging his father and effectively destroying Penn's relationship with his first love, the judge's daughter. She disappears, refusing to see him.
Then Olivia returns to Natchez as well, and sets out to charm Penn.
There are lots of twists to the story and great suspense, with the stakes ratcheting higher and higher, especially once the FBI gets involved. With so many secrets and hidden agendas, Penn has to move ever faster if he is going to understand, not only who the murderer is and who was behind it, not only how to save his father from the blackmailer, but what really went on behind Olivia's disappearance.
However, for me there was much that was not believable. I had no problem with the widespread corruption—I've seen too much of that in real life—but the lack of any official response to the many brutal murders and other violence that pepper this story seemed unrealistic to me. And, frankly, the author lost me near the end during a marathon escape that I know with complete confidence was physically impossible. I don't want to give away details, but trust me on this. People are capable of many amazing feats, but not this.
I found Penn an engaging character, and the other characters are well-drawn. However, my other problem with the book was the way characters get abandoned as Penn chases after answers. His young daughter, the one whose trauma first captured my allegiance for her father à la Save the Cat? Dumped. We hear almost nothing more of her once she's turned over to Grandma and Grandpa. As the investigation accelerates, Penn isn't even there at night for his child, the one who can't sleep without touching him.
Caitlin, who gets lots of attention early in the story as Penn's love interest and helpmate in his efforts to solve the murder, gets demoted to being a rarely-seen sidekick once Olivia arrives. His parents, too, have little to do in the story, aside from having to bear a brutal attack meant to deter Penn, who curiously seems to care little about the risks to them and his daughter. I also found his blindness towards Olivia surprising in a man supposedly so astute, but I guess that's the way it is with first loves.
Still, as I said, the book is a good, suspenseful read that has much to say about the danger of keeping secrets, how they fester over the years. It also has much to say illuminating the civil rights era. I remember the spring of 1968 only too clearly, and Iles does a good job of evoking the tensions of that time.
Reading any novel required us to suspend our disbelief; after all these are fictional people and events. Have you, while reading a novel, ever struggled to keep your disbelief held at bay?