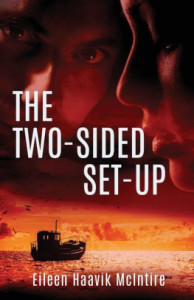 Melanie Fletcher thinks she's finally broken her string of bad choices in men when she meets Hunter at a charity event in New York City. Rich and handsome, he treats her like a queen. After a whirlwind romance, they marry but it only takes a few months for the cracks in his façade to begin to show as he moves to separate her from her friends and job.
Running for her life, Melanie ends up at her father's marina in Tidewater Virginia. She believes her childhood with her drunken, abusive father is the reason she keeps going from bad to worse when it comes to men, but has three reasons for going there. First, she's escaped on her small boat, so a marina is a good place to park and clean the hull. Second, she hopes the obstinate man she once ran from might be strong enough in a pinch to provide some protection against Hunter. Third, maybe by finally confronting the demon of her childhood she will be able to break forever whatever makes her keep choosing the wrong man.
I won't enumerate the ways in which things get worse and then even worse for Melanie. The suspense builds as she tries to create a new life for herself in Virginia, evade Hunter, and come to terms with her now-sober father. I'll let you enjoy the ride for yourself.
As a writer, I find myself looking at ways McIntire maintains the suspense. (Full disclosure: she is a friend of mine.) Like an expert angler, she gives us some play now and then so we think we're safe, and then reels us in ever more tightly.
There is not only the threat of Hunter finding and probably killing Melanie looming over the story. There's the uncertainty of how much her now-sober father may have changed. And how much can she trust the seemingly gentle owner of the bike shop in town who offers her a job? And much more.
But even in small ways—what Donald Maass calls microtension—McIntire snugs in the hook a little closer on almost every page. Here's an excerpt from a page chosen at random. Amos, Melanie's father, has just said that he should have listened to her. She's in her boat with Peedee, the dog she's adopted for extra protection.
I sat in the cockpit and marveled at Amos' last words . . . Did that mean he would stop pushing me to go back to Hunter? Had the blinders dropped from Amos' eyes? I'd have to wait and see, but in the meantime I could cuddle Peedee.

I went to bed early and slept restlessly, waking in fear at every noise, worrying over how I could earn any money if I had to hide from Hunter on the road.
What I notice here is that as one strand of tension loosens a little, McIntire wastes no time in tightening another—even when the protagonist is sleeping!
Awash as we are in the fiercely honest anecdotes shared as part of the #MeToo movement, nothing in this story of Hunter's behaviour will seem implausible. Writers are often advised to make their antagonists complex, not all bad, but sometimes it makes sense to break the rules.
In this case we are thrashing through the waves with Melanie in her attempts to escape him and take charge of her life. She is not going to see nuances in his behaviour or hints of good, at least not after she finally stops making excuses for him and tries to escape.
The other antagonist, Amos, though, is complex enough for both of them. I've seen how someone can change when they stop drinking. How much will he waver in his entrenched opinions? Can he and Melanie escape the patterns of the past?
If you're looking for a protagonist you can cheer for and a captivating read, look no further.
What's the most suspenseful novel you've read?
Disclosure of Material Connection: I received a copy of this book free from the publisher. I was not required to write a positive review. The opinions I have expressed are my own.