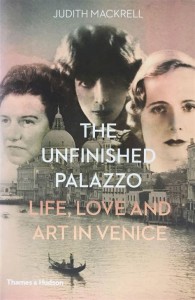 To make up for not being able to travel, I've been taking virtual trips to various places around the world using books, movies, and online resources. Italy called out to me, so I picked up this nonfiction book, subtitled Life, Love and Art in Venice. It is the story of three women who, in succession, owned a palazzo on the Grand Canal.
The Palazzo Venier was built in the mid-18th century by a powerful Venetian family, but left unfinished because of financial problems and the lack of an heir. Thus it became "il palazzo non finite".
For wealthy noblewoman Luisa Casati, the dilapidated palazzo held an air of mystery and romanticism that appealed to her. Separated from her husband, Luisa took on lovers, including poet Gabriele D'Annunzio, whose credo that "one must make one's own life as one makes a work of art" matched her own efforts to make an ever more spectacular splash in society. In addition to designing her own outrageous costumes and keeping a menagerie of exotic animals, she gave elaborate belle époque parties that made her famous, including one where she rented the Piazza San Marco itself for her guests, with police to keep out locals and tourists.
The 1929 crash combined with Luisa's expenditures eventually forced her to sell the palazzo. In 1938 it was bought for British socialite Doris Castlerosse, who had gone from working in a shop to being the mistress of powerful men. Her parties too were legendary, as she hosted film stars and royalty such as Cole Porter, Noel Coward, and Prince Philip while recklessly running up debts.
Ten years later it was bought by Peggy Guggenheim, who had fallen in love with Venice some years earlier and was looking for a place to reinvent herself. She remade the palazzo into a living museum for her modern art collection, opening her home to the public on certain days of the week. Dying, she turned it over to the Guggenheim Foundation which has made it into one of the most famous museums in the world.
The three women come to life in this smoothly written book. There's lots of drama, but it doesn't slip over into melodrama or tabloid revelations. You'll run across lots of famous names, but Mackrell's respect for her characters keeps the story from seeming too gossipy.
I always like to read about independent, creative women. These three were all a bit over the top: I wouldn't have liked them in real life but found their stories fascinating. Luisa in particular appealed to me, in part because I too in my less spectacular way believe in treating my life as a work of art. Also, I admired her resilience as she found ways to continue doing so even when she had almost no money.
While the story is really about the three women's lives and very little about Venice or the palazzo itself, it is an enjoyable read, one I recommend, especially to art lovers or those curious about society during the early twentieth century.
What books have you turned to for distraction during a difficult week?