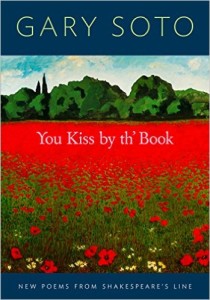 In this collection by Gary Soto, whose work I have been enjoying, he takes a line from Shakespeare and uses it as the first line of a new poem. This is similar to an exercise that poets sometimes use where you take a line from one of your own poems and use it in a new poem. It's always fascinating to see what different directions you find yourself taking. Soto read not just Shakespeare's poetry but also his plays, always on the lookout for lines that pique his imagination. Some of the lines he uses are well-known; others obscure.
One of the things that surprised me in these poems is that he sets them in the time of Shakespeare. While Soto's language is, as always, straightforward and accessible, it hints at the syntax of the time period, even sometimes using words now considered archaic. His poems are also effective because he uses specific images to create the world of the poem. Interestingly, many of these images are from life in the mid-16th century, as in this excerpt from a poem based on a line from Measure for Measure.
We must not make a scarecrow of the law.
Citizens, let the law rise naturally strong,
And be fed mutton, fowl, and stern mead.
Gloved or ungloved, laws hand should be mighty,
His jaw square, his eye fiery, his arm veined,
Not like the scarecrow who gives up
His innards when a paltry wind doth blow . . .
Yet even with such images, we connect with these poems because the ideas are timeless. How relevant to today's issues is the need to protect the power of the law, the calling out of cowards who throw out their principles when the wind changes direction. Another poem, based on a line from Venus and Adonis, strikes me hard during this week when we are so outraged and pained by the terrible abuse of children taken from their parents and other family members trying to emigrate to the U.S.
The colt that's backed and burdened being young
goes not far, for he has no spirit.
He has but a routine of grinding corn.

He eats little, drinks even less.
Flies scrub his eyelids when he doth cry.
The emotions are also timeless, whether pity or outrage, grief or—as in this poem based on a line from The Merchant of Venice—love.
One half of me is yours, the other half yours,
My thirteen cows reduced by one are still yours,
The chickens reduced by three are yours,
The candles and spoons,
The windows,
The very roof troubled in wind and rain,
The fire I build for you,
All yours.
I'm grateful to my friend Nichael for sharing this book with me. I love the idea of widening the relevance of Shakespeare's work. Even more intriguing for me is the way Soto takes us into Shakespeare's world and shows that however much the details have changed, our lives in many ways are the same.
What line from Shakespeare's work sets your imagination on fire?