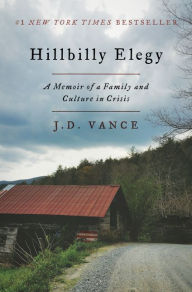 As often happens when I get around to reading a much-hyped book, I was disappointed by this best-selling memoir. Vance grew up in Middletown, Ohio, a Rust Belt town whose once-robust steel industry attracted many folks from Kentucky. Now a Yale-educated lawyer, his childhood was one of poverty, violence, drugs, and chaos—which he says is common in what he calls his hillbilly culture.
While he acknowledges the effect of a failing economy, Vance also says these evils are embedded in his culture. This balanced look at what holds people in poverty–both society's structural problems and personal failings–is why the book appeals to both liberals and conservatives. Vance is the first to deny that he "pulled himself up by his bootstraps"–the conservatives' solution–and to assert that it won't help to simply spend more money on programs (jobs, training, etc.)–the liberals' solution.
The major claim admiring reviewers make for this book is that it is, as Jennifer Senior in The New York Times puts it, "a compassionate, discerning sociological analysis of the white underclass that has helped drive the politics of rebellion, particularly the ascent of Donald J. Trump."
Yet Vance himself is careful to say in his introduction that he is writing about a specific "group of people I know—working-class whites with ties to Appalachia." It's dangerous to assign a singular character to all the members of a group, and there has been pushback against Vance's characterisation of all hillbillies as violent, unwilling to work, patriotic and proud while succumbing to welfare dependency and/or drug addiction. As one commenter on Rod Dreher's interview with Vance said:
I worked as an ER nurse for several years in a mountainous region of upstate NY with lots of white poor people. There was also a small (less than 5%) population of poor black people. I saw the same pathologies in both groups of people: alcoholism, joblessness, domestic violence, broken families, drug overdoses, etc. I also saw people busting their butts working 2-3 jobs, going to church, and doing their best in very difficult situations . . .
As she asserts, there are plenty of "working-class whites with ties to Appalachia" who don't fit Vance's stereotype. And like her, some reviewers noted that the problems Vance sees for whites are similar to those that have long been faced by poor people of color.
I was mostly interested in the relatively brief sections of analysis in Vance's book. The rest of the book is his account of his childhood and becomes what one friend of mine calls "another woe-is-me story". The physical and emotional abuse is tremendous and I certainly feel for the child, but the unrelenting focus on his own hardships turns the other people in his story into one-dimensional stereotypes. His sister is an angel who protects him. His mother, a violent drug addict, seems deranged. Although they can be violent as well, his grandparents are always fiercely loving toward him. There is no attempt to understand the nuances of these people or the forces acting on them. Of course, one expects a child to be self-centered and not understand much about others, but Vance is writing this as an adult looking back.
What Vance does do very well, though, is to open himself up. He shares his fears and failures and weaknesses, something that's awfully hard to do, but necessary if you want a memoir to work.
While the superficiality of the characters and the "woe-is-me" preoccupation disappointed me, I was more disturbed by his double standard. He's extremely critical of people who take welfare, but is himself grateful to go to college on taxpayers' money and to law school on scholarship. It's okay for him to take handouts but not for others.
He has bought the conservative fantasy that people on welfare and food stamps are living high on the hog. Having been on welfare, I find this laughable. Vance is certain that undeserving people on welfare are getting much more than he is, citing his jealous anger that people on welfare had cell phones while he didn't. Apparently he is not aware of programs that provide cell phones to poor people. His anger would be better directed at his mother for taking drugs and cycling through boyfriends and husbands instead of providing for him and his sister. What welfare does do–in its meager and grudging way–is to provide a little stability for vulnerable families, something that would have benefited his family.
He also trots out the urban legend of seeing someone on food stamps buying a steak, a favorite story among conservatives many of whom claim to have seen this with their own eyes or know someone who has. If it really did happen—and as someone who was on food stamps for several years, I find it extremely unlikely—and if he took a moment to think about it, he would realise that with less than $23 for an entire week's worth of food, anyone buying a steak is going to be starving the rest of the week.
I do agree with him about the mix of structural obstacles (e.g., failing economy, shortage of good jobs) and the lack of what he calls individual agency. I call it personal responsibility. However, his path is not a solution for every child suffering in poverty, as another commenter on the interview quoted from above says:
Whether the kids are black, Hispanic, white, or Asian, the same dictum applies: if your solution to get the next generation out of poverty is be extremely smart, work incredibly hard at school, ignore temptations to stop working hard at school, and to take on thousands in debt or owe years to the military in order to get a 4 year degree, then you have no solution. Solutions can't require extraordinary people. They have to work for ordinary people.
Vance is right to be proud of his accomplishments. And I agree with his recommendations for helping others to succeed. They are similar to those I made in my own memoir of poverty: instead of segregating the poor in ghettos, give them the opportunity to mingle with all levels including the middle class; make sure there are mentors who will help them envision a different future, believe it is possible, and then achieve it. He adds that the definition of family alternatives to foster care should be expanded to include grandparents and aunts and uncles.
I love that Vance credits those who helped him on his way: his grandparents, the Marine Corps, his sister, his aunt and uncle, teachers, and friends. As he says, "There were many thumbs put on my scale. When I look back at my life, what jumps out is how many variables had to fall in place in order to give me a chance."
The beauty of memoir is that it enables us to see the world through someone else's eyes. Many people have found this memoir a valuable look at what is to them an unfamiliar culture. It's always a bit dangerous to assume that your experience can exemplify an entire culture. Nevertheless, this book adds to the discussion of poverty in the United States.
What memoirs have introduced you to another way of life?