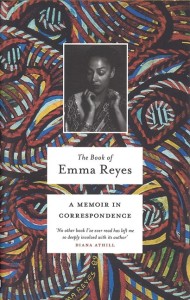 A review by Marjorie Agosin in the Women's Review of Books sent me in search of this epistolary memoir. She says, "After I completed reading this intense and brief collection of letters, which have such a sense of immediacy, I realized they were written by a woman who was illiterate as a child and only learned to write at age fifteen."
Reyes, who died in 2003 at the age of 84, lived in Paris where she was known as an artist, friends with Sartre, Frido Kahlo, and Diego Rivera. She was also known as a fascinating storyteller, full of stories of her childhood in Colombia. Germàn Arciniegas, a historian from Colombia persuaded her to write some of them down by sending him 23 letters between 1967 and 1997. I only wish there had been more.
The translator Daniel Alarcón says in his introduction, "Her vision is acute, detailed, remorseless, and true. There is no self-pity, only wonder, and that tone, so delicate and subtle, is perhaps the book's greatest achievement."
I quote others because I am utterly bamboozled. How does she do it? She starts in a one-room hovel in San Christóbal in Bogatá, where she lives with her sister Helena, a boy she calls Piojo, and a woman—apparently unrelated to her—called María who terrifies her. Immediately we are oh-so-carefully walking with her to the garbage heap carrying the brimming bedpan, their only toilet, tiny Emma's sickening daily chore. The garbage heap is where all the children play and—once the bedpan is emptied and wiped out—the scene of an imaginative game the children play.
There is no hint of self pity, no complaint about having only two sets of clothes—everyday and Sunday best—and four pieces of furniture. When María goes away with Piojo, she locks the sisters inside the hovel. "The bedpan filled up. . . so we started using the large serving plate. The neighbor came by only once a day and left us a big pot of porridge . . . We cried and screamed so much that the neighbors came to the door to try and console us."
Only the beginning of Reyes's trials, yet each is narrated in this matter-of-fact way. I could not look away. I could not stop reading. The second half of the book takes place in a convent, where she and her sister are taken in after being abandoned at a railway station. Reyes describes the nuns so precisely, and the mix of terror, mind-numbing work, rare kindness, and childish playfulness are so vivid that you can't help but feel you, too, have experienced life at this convent too.
It seems impossible that a child could be so resilient as to emerge from such a childhood with the courage and endurance to face all the griefs and successes that still lay in wait for Reyes. I wish she'd written more letters to cover all those years.
This is the most powerful memoir I've read in years. In his introduction, Daniel Alarcón says that he came to this book when
. . .a stranger literally pressed it into my hands at the Bogatá Book Fair in 2014.
"You must read this," she said. "You have to."
Now I urge the same of you.
As I do of you. Read this book!
What memoir have you read that made you feel you'd lived that life?