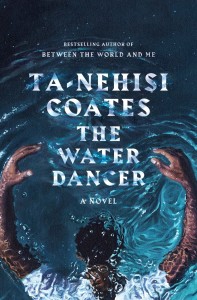 This first novel from Coates, known for his nonfiction such as Between the World and Me, is the story of Hiram Walker, a young slave in Virginia whose been assigned to be the personal servant for his half-brother: the white, legitimate son of the plantation owner. Hiram's mother was sold when he was nine, and curiously he has no memory of her. This is odd because otherwise he has perfect recall, a photographic memory.
Then one day when he is driving his feckless half-brother home, he has a vision of his mother dancing on the bridge they are approaching, and something extraordinary happens. He finds he has another, unsuspected power, one which he hopes to use to escape to the north.
Among the many wonderful layers in this story is Hiram's ambivalent feelings towards his father. As a child he looked up to him as to a powerful god, but as he grows and begins to see the truth about the man's failings, Hiram's feelings become more complicated. He can't completely lose that earlier desire to win his father's approval. The portrait of the owner is equally nuanced, as he vacillates between treating Hiram as a son and as property. Because it's so unusual an approach and overlaid with cultural roles, this is a great way to explore father-son relationships.
Another layer is Hiram's new, magical power, which is called conduction. This becomes more important as the story goes on and he learns how to better use it. Supernatural powers and happenings were a significant part of slave culture, so its inclusion in this slave narrative makes sense. However, for me, this magical realism aspect dissipates some of the outrage at the mental and physical suffering of the enslaved people. Also, it seems to function as a deus ex machina in resolving problems.
To his credit, Coates does not make it easy for Hiram. For Hiram, using his powers is not like waving a magic wand, but instead is an exhausting and painful experience. It reminded me of my recurrent flying dreams as a child which were not lovely floating rides, but entailed my having to labor at a difficult breast stroke if I was to get to the person in need, a strenuous effort that always left me drained in the morning.
The writing, as you would expect from Coates, is gorgeous. His scenes draw me in, full of sensory details and poetic images that make places and stories come alive. I did not get a very deep sense of the characters, but this makes sense since we are seeing them through Hiram's eyes. He is too young and inexperienced to be deeply perceptive about people—in fact his misunderstandings drive some of the plot. Also, this reflects the reality of slave life: People are constantly being torn away from you, sold south, or lost, so it's better not to get too attached.
I loved the first part of the book, where even the narrative portions fascinated me, and Coates's use of unusual terminology—the Tasked instead of slaves, the Low instead of poor whites, etc.—was delightful. However, after that, the story seemed to bog down, and I had to force myself to keep reading.
I thought about this problem for a long time, and I think it comes down to this: Once Hiram achieves his initial goal, the new goal motivating him is not strong enough to drive the story. The stakes do not seem high enough and not personal enough to make that goal matter. It is a worthy goal and certainly should matter a lot, but somehow it just isn't convincing, at least for this reader.
Still, this coming-of-age story of a man's journey to freedom is one of the best books I've read recently. I loved the unusual and nuanced way the story embodies the themes of family and memory. One of the episodes that most stands out to me is the brief story of a former slave Hiram meets who is trying to rescue the remainder of his family. Finally, like Toni Morrison's Beloved, this novel vividly demonstrates the curious self-blindness, the dissociation that slave owners and supporters of slavery inculcated in themselves.
Have you ever shied away from a novel because it seemed as though its subject matter would be difficult or distressing? Did you ever, as I did with this book, go on to read it and be glad you did?