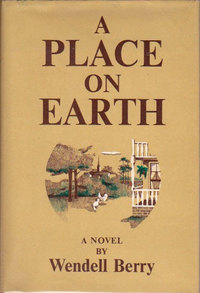 A recent post on Writer Unboxed by Kathleen McCleary looked at what kind of book prompts a really good discussion by readers and book clubs. The first quality mentioned was that such books "deal with big themes that are at the heart of human experience." That certainly describes this gorgeous novel.
I had read some of Wendell Berry's poems and essays, so I was not surprised that one of the big ideas explored in this his second novel is our relationship with the land. Reading this story set in the small town of Port William, Kentucky in 1944, we are immersed in a way of life unfamiliar to most of us today.
The story is centered on Mat Feltner, a farmer like his father and grandfather before him, but includes a wide cast of characters, some of them eccentric but all of them deeply human. As it begins, Mat and three other men are playing cards in a store left empty when the son of one of them went off to war. It's early March, a quiet time in the life of a farmer. Mat has just learned that his son Virgil, his and Margaret's only child, is missing in action.
As spring turns to summer and then into fall, Mat must make place in his consciousness, in his plans and expectations, for the possibility that Virgil might not return. Interwoven with Mat's story are those of others in the town: Virgil's pregnant wife Hannah, Burley Coulter who has lost one nephew in the war and just seen off the other to boot camp, Old Jack Beecham who cannot work his land anymore and has been moved into town and an unwelcome retirement, Jayber Crow who lives above his barbershop in a room full of books, to name just a few.
Berry writes with the poet's eye for beauty and ear for music. While this novel is a realistic portrayal of country life, it occasionally drifts naturally into lyricism, perhaps a description that is achingly beautiful, or a moment of insight that raises the story to a greater sphere. Mat, wakeful in the night, hears the first stirrings of morning:
And Mat's mind would return like a ghost to his body, leaving its uncertain questionings, the conjectures and absences it had wandered among. He felt himself shaped again, weighty, among the intimate clear objects of his days: the spacious dawn-filled plainly furnished old room; the leaves of the fern on the windowsill, in which the greenness appeared suddenly to have woken up, the shadows hanging over the pot rim as if peeled downward by the light; his clothes lying on the chair at the foot of the bed. And he would turn to these things gladly—as if, out of the unknowing magnitude that surrounded and diminished it, he took back his life.
Another big idea that Berry explores is what is the purpose of our lives? What do we hope to accomplish? What does death mean? What is left after we die? And nested within those intersecting ideas is the notion of work. This to me was the most striking part of the book, this description of what it means to work every day. I loved the way he describes the rhythms of work within the day, across the year. Here's Mat trimming his apple trees:
He likes this work—the look of his hands moving and choosing, correcting, among the tangle, the wild good health of the branches. The orchard is one of the works of his life, one of the most satisfying ones. From its young hesitant beginnings it has taken possession of the plot, become a landmark. There has never been any income from it except for the fruit, with which Matt provisions his own table and which the neighbors are made welcome to pick. He has a greater intimacy with what he grows for his own use than what he grows for the market. The orchard lights and shapes one of the deepest enclosures of his mind, his monument to the ground.
And here is Mat's brother Earnest, going back to work after a short rest:
The day and the work are established around him again. He goes on, deeper in, with a kind of excitement growing in him, a kind of hunger for what it's possible to do before night. It becomes easier to go on than to stop. The afternoon settles into its passing, less pleasant than the morning but more forceful, more gathered into itself, the impetus and urging of it building tighter and higher.
While my experience working on a farm was brief, I still recognise these same rhythms in my days working in an office or laboratory, and at home writing. I know Mat's satisfaction in the competence and skill that comes with experience. And even more than that, I recognise the uses of work, the benefits beyond the completed project. In all my years of reading, I have rarely found this theme explored, much less embodied as well as it is here.
This is one book that I never wanted to end. I consciously slowed down my reading to savor every sentence. My only consolation is that Berry's other novels are apparently about the people in this town.
What have you gained from the work you do, beyond a paycheck or a finished product?