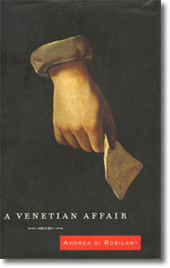 I've been thinking about romance. I'm still on my virtual visit to Venice, which may be the most romantic city in the world.
What I remember of Denis de Rougemont's classic Love in the Western World—it's been over forty years since I read it—is that in our western civilisation, the definition of romantic love is one that is doomed (think Romeo and Juliet, Tristan and Isolde).
Until relatively recently, marriage was a business relationship, adhering to social and religious rules. The idea of romantic love, while glorified by medieval troubadours, has only lately become a requirement for marriage. It has been argued that adding the weight of passionate love to the already heavy requirements of marriage—a spouse must not only be one's financial support and partner in raising children, but also one's best friend and true love—is a reason so many marriages falter.
For me, romance novels end just when they get interesting. Yes, of course, there's the fun of the chase, the misunderstandings and so forth, but what happens after the wedding? How do the couples fare over the decades to come with all their challenges? That's why I'm drawn to authors such as Anne Tyler who take the long view of a marriage.
Back to Venice, though. Here we have the true story of a couple's doomed love. In the mid-1700s, the last decades of the Venetian republic, twenty-four-old aristocrat Andrea Memmo, heir to one of the city's oldest families, catches sight of beautiful sixteen-year-old Giustiniana Wynne. It is a coup de foudre for both. Sadly, her social position is too much lower than Andrea's for them to marry.
Not only are both families opposed to the match, but at that time a marriage must be approved by the secular and religious authorities. Giustiniana's father is dead, and her mother rightly fears that Andrea may ruin her daughter since he cannot marry her, and thus forbids them to see each other.
Of course that only adds fuel to their flame, and they plot one rendezvous after another, creating their own cipher to encrypt their notes. They come up with schemes to persuade their parents and the authorities to allow them to marry.
The story is told through the couple's letters to each other over their secret seven-year-affair, with historical and cultural context added by the author who is in fact descended from Andrea Memmo. That, too, is something out of a romance: the discovery of a packet of frayed compacted letters found in the attic of Palazzo Mocenigo, the home of the author's father (It was also Byron's home when he lived in Venice).
What I loved best about this book was the rich detail of the history, politics and customs in Venice at that time. There are little things, such as the names and meanings given to patches depending on where they are placed on the face, and larger things, such as the need to deal with the Inquisitors. And there are always the palazzos on the Grand Canal, masks and Carnivals. There are also incidental characters, real people such as Casanova, who befriend the young couple and whose letters and memoirs have contributed to the book.
I was afraid the story might be too dry or dull, but I was fascinated by it. I did listen to the audio version narrated by Paul Hecht with the letters from the two lovers read by Lisette Lecat and Jeff Woodman. I don't know if reading it would have been less engaging. I loved how it added romance and an understanding of eighteenth century Venice to my virtual vacation.
If you want a true account of two star-crossed lovers and their forbidden affair in the mid-eighteenth century, with a vivid rendering of the social and political context, give this book a try.
Help me keep my trip to Venice going. Can you suggest any other stories set there?