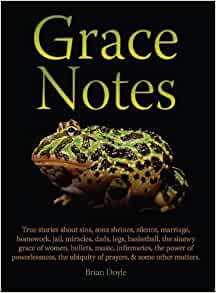 These days I'm turning to books not so much for escape as for courage and comfort, and welcome anything that might help replenish my stores of both. For me, that often means returning to one of my favorite authors. In addition to writing unforgettable stories and essays, Brian Doyle, who died much too young in 2017, was a teacher, magazine editor, husband, father.
In this collection of short essays—a form he excelled in—Doyle reminds us of what is good in the world. At the same time, he doesn't shy away from the darkness; in "The Sin" he describes losing his temper with his son, grabbing his shirt collar and roaring at him, frightening them both. He doesn't avoid his own responsibility or pretend it didn't happen. Instead, he confronts himself, "ashamed to the bottom of my bones."
Then he goes big: "I do not know how sins can be forgiven." As he ponders that question, and the further one of who must do the asking and who the forgiving, he is led to consider the grace alluded to in the book's title.
Doyle is a Catholic and makes clear in his Prologue that many of these essays "use . . . Catholicism as a prism, a way of being, an approach". Yet he keeps these works accessible for those of us who do not ascribe to that or perhaps any religion by using terms we can all believe in. Like Mary Oliver, whose work he much admires (and vice versa), he links prayer to attentiveness. And when he talks of grace, he speaks not of the Catholic God but of the experiences we all yearn for: the unearned gifts, the moments of being, the love that descends on us.
I call his essays unforgettable because each pierces me in ways I cannot describe. I often use his essays in my writing classes and, reading aloud an essay I've read fifty times, still, as I near the end, my voice trembles and tears start in my eyes.
How does he do it? In just two or three pages he builds a world that fills my heart.
Partly it's his word choice, the unexpected verb or adjective that surprises and transports me. And there are the startling images he uses. Both can be seen in this excerpt from "Cool Things":
. . . the way the young mother at the bus-stop has her infant swaddled and huddled against her chest like a blinking extra heart, and the way a very large woman wears the tiniest miniskirt with a careless airy pride that makes me so happy I can hardly squeak . . .
A blinking heart. Airy. Squeak. They shock us, these revelations; they draw us in to the world of the story by linking it in new ways to the world we know.
Partly his essays are unforgettable because he does go big. He doesn't hesitate to take on huge ideas, universal themes, and look at them in new ways, connecting them to our ordinary, our extraordinary lives. For instance, in "On Miraculousness" he uses an exquisitely described encounter with a little girl who is terribly crippled, out on the beach with her family, to—implicitly—look at the question of why bad things happen to good people.
Another technique he uses is to take on the voice of someone else, easing into it with the slightest of transitions, but giving us this genuine voice, this glimpse of the world through someone else's eyes. For instance, here is the beginning of "A Child is Not a Furniture":
One time when I lived in Chicago I spent an hour talking to a woman who was wearing a dress of the brightest red I have ever seen in all my born days and I have lived fifty years. This was on the Cicero Avenue bus at three in the morning. She said she was returning to the apartment where she lived with her husband. I inquired after children and she said,

My husband and I trying to welcome children but as yet we have not been blessed. I would like to have five children. I am myself one of five. My husband however an only child of complex circumstances. He have misgivings and forebodings.
Most of all, though, what makes Brian Doyle's work so profound is that, as dancers say, he leaves it all on the stage. He doesn't hold anything back. He lets us into all his secrets, shows us his warts and his wonder, his deep appreciation for our flawed and amazing time on earth.
He is missed.
What books are you turning to for comfort and courage?