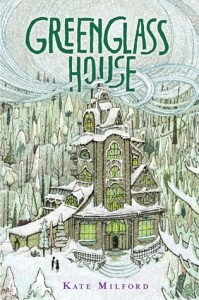 Sometimes a Middle Grade (MG) book is the right remedy for the last gloomy dregs of winter. In this first of a five-book series, twelve-year-old Milo's glee at the start of winter vacation is dashed by the surprise arrival of a guest wanting to stay at Greenglass House, a gloriously rambling inn with many stained-glass windows, which is also the home of Milo and his adoptive parents.
Part of Milo's dismay is that the inn, which seems to cater to an inordinate number of smugglers, is usually left to the family over the Christmas holidays. Another part is how unexpected this night-time arrival is, in the middle of a massive snowstorm which threatens to close the steep road to the house and—they thought—had frozen over the river Skidwrack, the usual approach to the house.
We quickly understand that Milo has a low tolerance for disorder and change, carefully piling his books in a certain way and always ensuring that each piece of furniture, each knick-knack is in its regular place. He's self-conscious about how obvious it is that he is adopted, since he is Chinese, and tries to hide or at least be invisible when guests are around. His relief at being on vacation points to school being even more uncomfortable for him.
Their visitor is immediately followed by four more, each as mysterious as the last. Their cook and her oldest daughter are hastily summoned from the village, Nagaspeak, with supplies, barely making it through the storm.
None of the visitors appears to be on the up-and-up, their stated reasons for being there not ringing true. Then there's the strange antique map Milo found, apparently dropped by one of them. His new friend Meddy, the cook's younger daughter, introduces him to a role-playing game in which he takes on the character of Negret, through whom he discovers his own unsuspected talents. When items start being stolen, the two of them investigate.
The story takes place more or less in modern times, yet there are lovely quaint details. At one point, the Magothy is mentioned so I assume the fictional Nagspeake is set very near where I grew up on the edge of Sandy Point Park on the Chesapeake Bay in Maryland. Also, the author grew up in Annapolis, which is not far away. I especially loved the house, with its peculiar architecture, unlikely nooks and crannies, prolific attic, and mysterious history.
I read that the book started as a writing prompt—to write something about stained glass—which as a writer and writing teacher I love! Writing to prompts can take you down unusual paths, opening up new ideas and inspiring unusual stories.
While I was too immersed in the story to do much analysis while reading, I found myself afterwards looking at how the author revealed information. Like Milo, we are learning things all the time, but each new understanding raises even more questions. Thus, the suspense kept growing—with appropriate scenes of hot chocolate and companionship as a rest in between.
Some of the twists might seem a little heavy-handed to adults whose investigative skills have been honed by decades of mysteries, but are probably just right for middle-grade readers.
I loved how the characters develop through the story—Milo, of course, but also Meddy, Milo's parents, and the guests themselves. Also adding to the richness of the story is what Tolkien called "shimmer": the presence of a story behind the story, a detailed past hinted at, like the shadows of our past selves or our ancestors that lurk behind us.
The book in great fun and I look forward to exploring the rest of the series.
Have you read a Kate Milford book? Which one is your favorite?