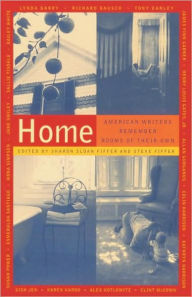 A friend gave me this enjoyable collection of essays, subtitled American Writers Remember Rooms of Their Own. Each author takes a room as a starting point for remembering: the porch, the hallway, the dining room, the closet, and so on.
This structure is similar to a writing exercise I use in my memoir classes. I invite the participants to think about a room in their house, perhaps the living room or their bedroom. Then I ask them to stand in the center and mentally do a 360° turn around it, noting the pieces of furniture, the various objects on them, the pillows, the curtains, the pictures on the wall. Select one and tell the story of how it came into your life.
From there, I say, follow the trail of memories. Writing a memoir is like being one of those clowns pulling a silk handkerchief from your sleeve. It's attached to another handkerchief, and that to another, and you keep pulling and pulling until you have a huge heap of linked hankies. Memories work that way. Once you start pulling on one, you'd be surprised how much it brings along with it, a bit at a time or all at once.
Here, for example, Henry Louis Gates, Jr.'s recollection of his childhood living room brings with it the solidarity of seeing any person of color on television—each siting was an event to be yelled out to the neighborhood. And then the television brings the drama of the Civil Rights Movement into their lives: watching the news "to see what 'Dr. King and dem' were doing", watching black children walking up to Central High School in Little Rock, Arkansas in 1957.
Alex Kotlowitz uses "The Boys' Room" to describe his relationship with his brother. It is a place apart in the first-floor apartment in Manhattan's Upper West Side. The boys make forts and play at war. They raise hamsters, gerbils and turtle doves. They wrestle and box, all without adult intervention. Through all their fighting, though, there is a thread of caring and protection. They watch out for each other in little ways and big.
Given the allusion to Virginia Woolf, I expected these brief memoir pieces to relate somehow to the author's writing life. The introduction by Sharon Sloan Fiffer does, relating how she would hide on the sixth stair down to listen to her parents and sometimes her older brother talk and argue as grown-ups do when the little ones are in bed. Then she relays these stories to her five-year-older next-door neighbor Nora. Trying to keep the older girl interested and therefore willing to let Sharon hang around, she learns when to tighten up a story and when to embroider it. She hones her comedic timing. Most of all, she learns to listen, not just to her parents and brother to gather material, but also to Nora, her audience to see how her story is going over.
The other essays don't seem to go in this direction, but it doesn't matter. They are heartfelt and true. They tell stories of other times and places. Most of all they tell about the families with whom we share these spaces, the love that lurks in every corner, and the memories that bind us together.
Look around your home and select one object. How did it come into your life, and what does it mean to you?