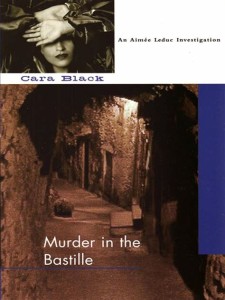 I've written before about Black's series set in Paris featuring private investigator Aimée Leduc. After the shocking death of her father, a police detective, she decided that she would stay away from crime-solving; she and her partner René would only provide information security services, such as computer forensics and corporate security. However, when Aimée stumbles into a murder investigation, she can't help but be drawn in.
One of the pleasures of this series is the setting. Each installment takes place in a different neighborhood, or arrondissement, of Paris. Here, it is the Bastille, known to many of us because of the famous prison. Once a working class neighborhood, it's now a gentrified area with the Opera Bastille, fancy restaurants and nightclubs. However, there is still a maze of old passages, back alleys and inner courtyards, the home of furniture makers since the 12th century. Now, apparently, these mostly house trendy shops, but in 1994, the time of this story, some older businesses still held on.
In this, the fourth book in the series, she wears a new—supposedly one-of-a-kind—Chinese silk jacket to dinner only to find the woman sitting next to her wearing the same jacket. The woman appears afraid and forgets her cell phone when she leaves. When Aimée takes it up to the maître d', it rings and she answers it. The person mistakes her for the owner of the phone and implores her to show up at a planned assignation. Aimée goes there, expecting to find the woman but instead is brutally attacked in the dark Passage Boule Blanche.
Found by René, she awakens to learn that damage from the beating has blinded her, though it is not known if this is temporary or permanent. Even worse, the woman wearing the same jacket was killed in a nearby street. Now she must help Loic Bellan, the distracted policeman in charge of the investigation, solve the crime before the murderer silences her.
As a reader what I most enjoyed was René's expanded role. Preferring always to work at a computer, his partner's blindness forces him to take on some of her investigative activities, a prospect which terrifies and excites him in equal measure.
As a writer what I most enjoyed about the book was the intimate experience of sudden blindness. The author has thrown herself heart and soul into Aimée's emotional and practical struggles, ranging from despair to pride to the craving for a cigarette. I have no idea how accurate the treatments and expectations for the blind might have been at that time, only that Aimée's emotions rang true to me.
What I can say, as an information security engineer and analyst myself, is that the technology side of the story is accurate. Some readers have complained that the technology used in the story didn't exist in 1994, but they are wrong. Not only were Aimée and René, by virtue of their profession, working with cutting edge equipment and software, but the technologies described in this story were in common usage in certain arenas in the U.S. and even more so in Europe.
I don't know Paris and have only schoolgirl French, so I can't speak to the accuracy of the descriptions and the various French phrases scattered through the book. I can only say that I enjoyed them and hope someday to visit Paris, seeing it not just through the eyes of a tourist but through the gritty lens Cara Black's books have given me.
Have you been to Paris? Which arrondissement did you stay in?