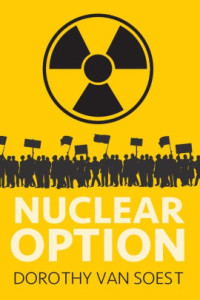 At 77, Sylvia Jensen believes her activist days are over. She is still involved with community groups and delivers Meals on Wheels, doing what she chooses to do rather than what she feels she ought to do. Then, at a funeral for a woman who had been an inspiring leader during Sylvia's years protesting domestic and military nuclear proliferation, she is astounded to meet a ghost from the past.
In her 40s, at a meeting planning protests against Nectaral, the biggest military contractor in the state, Sylvia had met Norton, a kindred spirit with green eyes and a crooked smile. Since he was married and had a young son, they tried desperately to keep to friendship. What Sylvia didn't know was that Norton had a time bomb inside, that he was an atomic veteran.
Now, all these years later, Norton's son Corey, full of rage and anguished loss, crosses her path, ready to take his protests to another level. How can Sylvia not try to save him from himself?
The mystery unfolds on two levels: the past, where Sylvia and Norton and their friends are on trial for their part in the protest, and the present, where Sylvia has to draw on all her skills as a former foster care supervisor, her courage, and her friendship with investigative reporter J. B. Harrell to untangle the webs being woven around her beloved Norton's son.
I did not know about the atomic veterans—no surprise since their existence was hidden behind the Nuclear Radiation and Secrecy Agreement Act until it was repealed in 1996. They were ordinary soldiers used as guinea pigs during nuclear tests, ordered to stand without equipment near the blast in order to study the effects of radiation, or sent in to clean up afterward, again without protective gear or being informed about the danger.
I did know about and was involved in the 1960s in protests against nuclear proliferation. The bomb and the horrors of Hiroshima and Nagasaki were very much in the forefront of things to worry about. Yet until Van Soest's book (Full disclosure: Dorothy is a friend of mine), I hadn't realised that anti-nuclear protests were still going on; that fear had receded into the rear of my personal chamber of horrors.
Like Sylvia and, I'm sure, others who were active in the 1960s and 70s, I have been reluctant to get involved in protests and marches again. Busy raising children and keeping a roof over their heads, I focused on what seemed immediately most important, I suppose making me no better in a way than the corporate heads prioritising short-term profits.
But the last four years have dragged me out of my comfort zone. Protestors fill our streets once again. And now this story, with its interweaving of past and present, invites me to consider what more I might be doing. It chimes with what I've been reading and discussing and thinking about all summer: how can I leverage my privilege—for I am surely privileged in many ways, despite my years of poverty—to help make the changes our stricken society so badly needs?
What Van Soest has accomplished in this, her fourth novel, is quite remarkable. She has given us a gripping mystery, with characters who will haunt us long after the last page is turned, placing them within a real-world context that alerts us to dangers we may not have considered. The story never falters, as we are swept into Sylvia's quest for justice and safety for us all.
Have you read a stirring mystery lately?
Disclosure of Material Connection: I received a copy of this book free from the author. I was not required to write a positive review. The opinions I have expressed are my own.