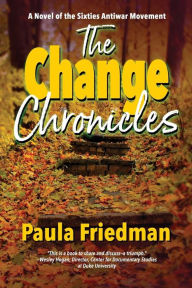 Friedman has written a thought-provoking novel set in and near San Francisco during the tumultuous years 1965-9. Subtitled A Novel of the Sixties Antiwar Movement, it is narrated by young Nora Seikh. At 22, she is still uncertain about who she is and what she will do with her life.
Her head is filled with the voices of others—an abusive former lover, another would-be lover, a pair of strict and conservative parents—all telling her who she is and what she should do. As she struggles to navigate the negative voices and figure out these things for herself, she becomes involved with the nascent Antiwar Movement.
Nora takes a job reporting antiwar news for the Berkeley Barb which sends her to local actions. She also gets involved with a couple of activists and through them with the Port Chicago demonstrations and nonviolent vigil, trying to stop the shipment of weapons—including napalm—to Vietnam.
This is also when the Second Wave Women's Movement was taking shape. Having a female narrator enables us to experience the intersection of the two movements, the way the men in the Antiwar Movement downplayed the women's contributions and discounted women's issues as unimportant.
Although I was on the East Coast during those years, I certainly could identify with Nora's journey and attest to its accuracy. For instance, when Nora distributed leaflets to returning sailors, she found—as I always did—that they wanted the same thing: End the war. Bring them home. Everyone I met who was involved in the Antiwar Movement was intensely on the side of the men sent to fight and die in an unjust war. We were against the politicians, not the men.
Another thing that people who came of age later might not understand is that we had no role models. Especially for women: we were in uncharted territory. We wanted more than the homemaker destinies of our parents. The pill had opened up possibilities of love outside of marriage. But in those pre-internet days, before Women's History courses, we had no easy access to examples of how to navigate this new world. As my friend Jill said, "I didn't know what I was doing. I was making it up as I went along. We all were."
We learned to talk with women living in poverty or near-poverty, women of color, women who had always worked. We read novels and poems by women. We read biographies of women artists and writers.
In this novel, Nora has turned to philosophy but, dissatisfied by the men she's been studying, she tries to puzzle out her own.
Having left the uncertainties of the early twenties behind long ago, I was less interested in the first part of the book which was heavy with Nora's descriptions of her feelings and attempts to work out a philosophy that would give structure to the world and her own identity. My interest perked up in the second half when the balance shifts more to the actions against the war.
The characters are well-drawn and there's plenty of action, especially in the second part when things get worse and worse for Nora, keeping the tension high. Nora's emerging understanding of herself and her world continues to be tested right up to the end.
Have you read a story that accurately captured a time you lived through?