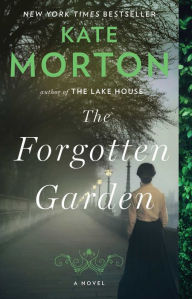 It being the end of summer, I went in search of a real vacation read. Not that I was going away, but I did have a week off from grandchild babysitting duties. I wasn't looking for a beach read; most of my vacations end up in a cabin in the woods or a footpath in the Cotswolds. Instead I wanted to immerse myself in a big, fat, multi-generational novel, preferably set in the UK.
I found it in The Forgotten Garden. As the story opens, it is 1913 and a small girl is hiding on a ship on the Thames, as instructed by "the lady". The ship casts off from its London dock to cries of "Bon voyage", and the girl leaves her hiding place to follow a group of children. Later, a fall on the ship has damages her memory, so she no longer remembers her name or any other details of her former life.
She fetches up in Brisbane, Australia, where she is adopted by the harbormaster and his wife. As an adult Nell tries to discover how she came to be left alone on the boat and why a book of fairy tales was packed in her small suitcase. After Nell's death her granddaughter Cassandra takes up the search, following Nell's footsteps to Blackhurst Manor on the coast of Cornwall, ancestral home of the Mountrachet family.
I'd previously read and enjoyed Morton's The Lake House, impressed by how well she moved back and forth in time without losing me—and I'm a notoriously easily confused reader.
Here Morton doubles down by using, not just multiple time periods but also multiple narrative points of view (POVs). Multiple POVs have proliferated lately, having the cachet of seeming modern. Many writers have tried their hand at using them. Most fail.
At least in my opinion—remember I'm easily confused. Sometimes it seems to me a lazy way of writing. It is a challenge to bring out all of a story's incidents and information if you are confined to only one character's perceptions. I think some authors try to get around that by moving from one character's head to another, instead of finding more creative solutions.
That's not what's happening here. I should have been lost a hundred times over as we move between Nell, Cassandra, Rose Mountrachet, and Eliza, the author of the fairy tales. We jump around in time between 1900 when Eliza was a child, 1907, 1913, 1930, 1975-1976, and 2005 when Cassandra flies from Australia to England. We have letters and scrapbooks and journals. We even have some of the fairy tales.
And it all works. It's not just that Morton labels each chapter with place and date. It's not just that we have different characters associated with the different time frames to help ground us. Nor is it just that she pays attention to transitions, so for example at the end of one chapter Cassandra in 2005 is examining a legal document, while the next chapter starts in 1975 with Nell checking her passport and tickets.
It's that Morton has carefully constructed her story so that whatever the date and POV, the line of the story continues. Thus, just as Nell in 1975 begins to learn about Eliza's early life and that she is the author of the fairy tales, we go to 1900 where Eliza is watching the busy life of London's streets through a chink in the bricks and making up stories about the people she sees. If I was unsurprised by the ending, I was at least not disappointed.
It's always interesting to me as a writer to go back, after my gloriously immersive first read, and see how the author has handled releasing information. It's a tricky balance. You want the reader on the edge of their chairs, but not so frustrated that they throw the book across the room. So you have to reveal information fairly regularly while also holding some back. One good mantra is: every time you answer a question in the reader's mind, create a new one.
All of the characters, even minor ones, are well-drawn and memorable. The settings—ship, slums, estate, cottages, gardens—are gorgeously done. The letters and other ephemera add to the verisimilitude of the story and give us other voices. To my surprise, the fairy tales also work well, adding emotional depth to the story as the seeds planted by their images flower. In fact, the language throughout is particularly lovely: poetic without being distractingly so. There are some really gorgeous turns of phrase here, some haunting images.
All in all, Morton's book is a perfect vacation read.
What did you read on your summer vacation?