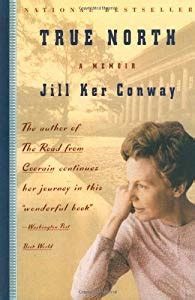 This sequel to The Road from Coorain begins in September of 1960, as Conway travels from Australia to Harvard University in Cambridge, Massachusetts, where she will be a graduate student. She says:
The future of a woman alone in the world and the 1950s was a blank page, because no one I knew had lived that way, and the rules of the culture were clear that they shouldn't. So I experienced my leave-taking as a farewell to the known, a jump off the edge of the world into an unknowable future.
From the weather to the customs—such as dinner being served at 5:30 pm, the time for nursery tea back home—she has to find her bearings in this new world. I love her descriptions of Cambridge, such as:
It was old, by any standard, and sparer, in a fashion I could not quite comprehend, than any urban landscape I'd yet seen.
and
I'd never thought there could be beauty in a pallet of gray and white, but suddenly I could see in the low slanting light, the bare branches, and the gleaming snow of an early winter afternoon images I'd seen before in a Rembrandt drawing but never properly understood.
She is buoyed up by the "easy good manners and cordiality" of the people she meets. She quickly finds herself in a group of like-minded women, most of them a year ahead of her. Best of all are the courses she plunges into for this next phase of her scholarly career. She adeptly describes the excitement of the ideas in her seminars and the individuals teaching them.
As a teaching fellow in her second year, she finds herself working for John Conway, a war veteran from Canada. Although she comes to their first meeting "prepared to be very businesslike," they quickly veer into discussing their "shared experience of a first encounter with the United States."
Reader, she marries him. Then he gets an irresistible offer to be on the faculty and a master at one of the colleges at York University in Toronto. They agree to take turns: ten years for his career, ten for hers, and they move to Canada. It is a good move for her as well. She becomes involved in college administration and, at the end of this book, is invited to become president of Smith College in Northampton, Massachusetts.
I loved her descriptions of Toronto as well, where she has to adjust to a longer winter. Her insights into the Canadian view of the U.S. also intrigued me.
Unfortunately, she encounters some of the same prejudices she'd left behind in Australia. In fact, this last aspect became one of my greatest rewards in rereading this book. As she details her strategy for getting equal pay for herself; then all women faculty at the university, and then the other women working there—secretaries, lab technicians, cleaning women, career counselors—I remembered all those hard-fought battles, the ones we seem to be having to fight all over again.
She also talks about her work as a historian, writing about women's roles, how they changed, and how the women themselves perceived their roles. Fascinating.
I'm eager to move on to A Woman's Education, Conway's third memoir, this one about her time at Smith College and one I've not read before. These books not only bring to life specific times and places, they chronicle the inspiring life of one woman on the cusp of major changes in our culture. Even better, they encourage the reader to consider and reconsider ideas and, perhaps, memories that speak to the issues we are struggling with today.
Have you read a memoir or biography that seems extraordinarily relevant today?