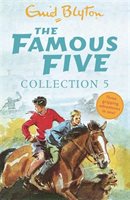 Just what the doctor ordered: three adventure stories of children in rural England. The five are siblings Julian, Dick and Anne along with their cousin George (aka Georgina) and her dog Timmy. They actually think they are just going to explore or hike or perhaps camp out, armed with torches, lashings of sandwiches, and ginger beer, but inevitably stumble upon a mystery to be solved.
Five Go to Mystery Moor, the first story in this fifth FF collection, has Anne and George, and Timmy too, spending a week at Captain Johnson's riding school while the boys are away at a school camp. Anne loves the horses, but George is bored and annoyed that there is another tomboy there. Henry (aka Henrietta) doesn't have curly hair like George, so seems even more like a boy. Then the news comes that George's father is ill, so they have to stay longer and the boys are to join them.
The young people are fascinated by nearby Mystery Moor, even more so when they learn from Old Ben the blacksmith how the name originated. Exploring the moor, they come across the group of travellers who had been camped near the riding school and are warned off by the threatening men. Weird lights, blinding mists, and long-buried secrets draw the five and Henry into dangerous encounters.
The other two stories take place at George's home, a cottage beside the sea. Julian, Dick and Anne usually go to Kirrin Bay for the summer holidays to stay with George, Aunt Fanny and Uncle Quentin.
In Five Have Plenty of Fun, George's father has been drawn into a top-secret government project. A highly respected scientist, his absent-mindedness is just mild enough to fuel humorous episodes without seeming stereotypical. The daughter of one of his colleagues is foisted upon the other children who have to adjust to the much younger American and her little dog. Mysterious lights at night lead to a boat trip to Kirrin Island in the bay where surprises and danger await.
The final story Five on a Secret Trail has the children camping out when they stumble across a ruined cottage and an old archeological dig where a very strange boy is continuing to excavate. Wailing noises and strange lights in the night set them investigating.
This collection of three middle-grade novels by beloved author Enid Blyton provide a little respite from today's grim news. No surprise then that the first Famous Five book was published in 1942 with more coming during the war years and the lean time afterwards. These three were first published in 1954, 1955, and 1956.
Blyton is less well-known in the U.S., which is a shame because these are delightful stories that bring mid-20th century rural England to life. The children provide a range of personalities for young readers to try on. Julian is the oldest and most responsible, while Dick is much like my younger brothers: always ready for a game or a new adventure. Unlike George, with her vehement determination to be as capable as any boy, Anne loves horses, setting things to rights, and keeping everyone on an even keel. The main thing, though, is that they are realistically presented, acting and speaking like children we know.
I wondered if there were a real Kirrin Island, since the riding school's Milling Green is a real place in Gloucestershire. The answer is no. Two candidates for its inspiration are Corfe Castle on the Isle of Purbeck, Dorset, where Blyton spent a lot of time, and Brownsea Island, in Poole Harbour, Dorset, visible from where Blyton played golf at Godlingston Heath. A National Trust property, Brownsea is better known as the home of the Boy Scouts.
If you know some young readers or yourself want a break, dip into some Famous Five stories.
What middle-grade (aimed at ages 8-12) stories do you like?