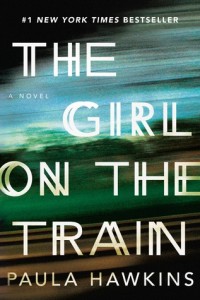 I didn't want to read this 2012 runaway bestseller simply because of the title. I have had it with grown women being referred to as girls. No one would refer to a 32-year-old man as a boy. The misogyny makes me want to spit.
However, a book discussion group I'm in selected it, so I gave in. In short, it was a fast read about a bunch of extremely unpleasant people. The voice of the initial first-person narrator, Rachel, felt genuine and well-written. The voices of the other two women narrating the story equally well-written, aside from not seeming different from Rachel's. There was plenty of suspense from one page to the next, though the solution seemed clear early on, but little else to recommend it. However, as writers, we can always learn something from a book.
Rachel rides the commuter train back and forth to a job she pretends she hasn't been fired from. Morning and evening, she gazes at her former home where Tom now lives with Anna, the woman he left Rachel for, and their baby. She also speculates about the loving couple a few doors down, making up names and stories for them. She also drinks. A lot.
Her excessive drinking has cost her not only her job and marriage, but made her fat and ugly, at least according to her account of what people say to her. More misogyny, anyone?
From the train, she witnesses a disturbing incident at the neighboring couple's home, and soon after learns that the woman, whose real name is Megan, has disappeared. In between binges, blackouts and drunken, begging calls to Tom, Rachel decides to help with the investigation. In different chapters and a separate timeline, Megan tells us about events prior to her disappearance, lounging at home months after her gallery closed, feeling sorry for herself. Our third narrator is Anna, smug and arrogant in her marriage, while complaining about Rachel constantly barging in and the incessant trains passing behind the house. She misses the excitement of being a mistress rather than a wife; she misses clubbing and nights out.
What these three thoroughly unpleasant women have in common is that they are bored women living privileged lives yet finding endless complaints to fuel their self-pity. Rachel could set aside her multiple gin and tonics or bottles of wine and get another job. A job would be even easier for Megan; all she has to do is get out of the chair. Anna could find social groups and volunteer activities like other stay-at-home moms. Instead they just whine. The men aren't much better. They all behave badly, and stereotypically so: abusing the women in different ways.
So what makes this novel so popular? I am somewhat mystified. The theme of work versus marriage and children, which could make it resonate for young women, seems falsely set up to me. Everyone behaves badly at home. We only see Rachel at work, and then only an embarrassing memory. One person in my group suggested that Rachel displayed elements of Bridget Jones and so attracted that audience.
I kept feeling that I was immersed in the 1950s—women stuck at home with or wanting babies while under their husband's thumb—yet I understand that I'm old enough to have been through several increasingly complex waves of dealing with these issues and that each young generation of women has to address them all over again. I also understand that feminism in the UK is on a different timeline from the US. Still, I didn't think the story treated these issues with subtlety or awareness of all the social history packed into them.
One reason for its popularity could be that it combines genres. It's been called a literary thriller, a literary mystery, and a psychological thriller. Also, for those looking for a classic hook, it's a Hitchcock mashup, combining elements of Rear Window, Stranger on a Train, and a third I won't mention so as not to spoil the story for anyone who hasn't read it.
Yet, mystery fans will find it very thin, with the red herrings barely mentioned before being casually ruled out and the ending well-telegraphed. The two detectives are barely mentioned and have almost no role in the book. Fans of literary fiction will also find it thin. Rachel is the only one whose inner life is developed, though her character is given plenty of layers and her inner monologue very well-written. More development of the other characters, better tying up of loose ends, and a few subplots would have made for a richer story.
I think it is too shallow to qualify as literary fiction. Outside of the three women the characters are not developed and, while there are plenty of layers to Rachel's story that are reflected in Anna and Megan's, there are no subplots involving the other characters.
I guess it's the thriller aspect. Hawkins does a good job of adding microtension to each page. This keeps the reader engaged and the suspense ramped up, even when you know what's going to happen. I liked the cover, too. With a blurred background fronted by large juddering text, it grabs your attention and conveys the essense of the story.
Is there a wildly popular bestseller that either thrilled or disappointed you? Why?