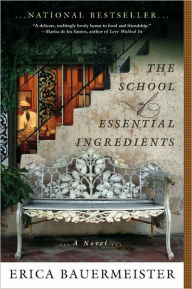 I've had a string of books filled with unpleasant and untrustworthy characters. Likeability is not a requirement for me as a reader. Stories of people from whom I'd run screaming in real life can yield psychological insights, an engaging puzzle, or the sheer pleasure of nuanced characterisation. However, sometimes I need a break.
This gentle book, by an author recommended by my friend Christine, fit the bill.
Lillian taught herself to cook at a young age when her mother, shocked by her husband's departure, disappeared into books. Proceeding by trial and error, eschewing cookbooks, Lillian became adept at assessing what sort of food a person needs and providing it.
The school of the title is a class Lillian teaches regularly at her restaurant on Monday nights when the restaurant is closed. As she gets to know her students, she is able to concoct lessons suited to their individual needs.
They range in age from a girl with heavy black eyeliner to a "fragile-looking" elderly woman. In between are an older couple, a young stay-at-home mother, a man clouded with sadness, a computer scientist, and a gorgeous Italian woman.
Each chapter takes one student, exploring their background, their wounds and gifts, through the particular dish or dishes being prepared that night. For example, Antonia is a kitchen designer, stumped by her current task. Her clients are restoring a beautiful old house, but their vision of a sleek modern kitchen with concrete floors and black cabinets fills Antonia with dismay. Not only is it wrong for the house, but it would mean destroying everything that is lovely about the room now.
For Antonia, the scarred wooden table, the window seat overlooking a kitchen garden, and the warm and welcoming open fireplace remind her of grandmother's kitchen. So Lillian has the class make Thanksgiving dinner that night. At first that seems cruelly calculated to drive home the distance between that Italian village where Antonia's grandmother lives and this new country with its baffling custom of celebrating by stuffing themselves and then falling asleep.
However, the menu is not a traditional one. While keeping traditional Thanksgiving foods such as turkey, cranberries, corn, and green beans, Lillian's dishes rearrange and combine them with ingredients Antonia's grandmother would use: rosemary, pancetta, gorgonzola, pine nuts.
More than these portraits, which make the book seem more like a connected series of short stories, what I loved was the sensuality of the writing. Not surprising, I guess, when you're writing about food, but Bauermeister truly had me smelling the rosemary, tasting the heirloom tomato, feeling for the pieces of crabmeat in their tiny shell chambers.
It's a lovely book, and one I highly recommend if you need a restorative break.
What book do you turn to when you need a rest?