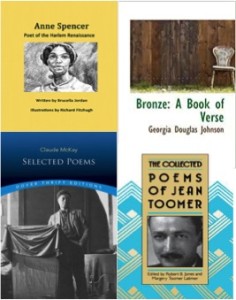 Books are my primary focus on this blog, with an occasional foray into magazines and music. Today it's a website. While pretty familiar with the more well-known writers associated with the Harlem Renaissance, I wanted to delve into the work of other, less familiar poets. The Poetry Foundation website is a great place to start.
The Harlem Renaissance was a flowering of creative and cultural life in the early 20th century, loosely dated from 1916-1935. Partly a result of WWI, a huge wave of southern Blacks moved to northern cities to take advantage of job opportunities and a seemingly less oppressive society. Known as the Great Migration, this influx brought together a significant number of Black artists and writers as a group for the first time. Harlem alone saw over 175,00 new Black residents. This new sense of social and creative community was fertile ground where the arts could thrive.
Claude McKay, born in Jamaica and committed to social justice, is the author of "If We Must Die", an enduring trumpet call for freedom which begins: "If we must die, let it not be like hogs / Hunted and penned in an inglorious spot". But it is his poem "America" that moves me to tears and stays with me week after week as we ride the current wave of potential change. It begins:
Although she feeds me bread of bitterness,
And sinks into my throat her tiger's tooth,
Stealing my breath of life, I will confess
I love this cultured hell that tests my youth.
His love for this country despite its failures is front and center in this poem. Grateful for its gifts, he comes as a rebel but one without malice. Change is coming, he says. It may take time; it may take a lot of time, but it is inexorable.
Like a number of poets associated with the Harlem Renaissance, Anne Spencer never lived there, but was close to several key figures and worked with them to establish the Lynchburg, Virginia chapter of the NAACP. Her tribute to Paul Dunbar, a forerunner and model for the Harlem Renaissance poets, is brief but wrenching. And her poems such as "Lines to a Nasturtium" are a master class in how to use nature to explore the human heart.
Poet, playwright, and novelist Jean Toomer brings his background to his calls for racial unity. Of both White and Black heritage and having attended both all-White and all-Black schools, his poems combine elements of both cultures. In "Banking Coal" he uses the extended image of banking the coals of a fire with ashes overnight, working it first one way and then another before the shocking but perfect middle:
I've seen them set to work, each in his way,
Though all with shovels and with ashes,
Never resting till the fire seemed most dead;
Whereupon they'd crawl in hooded night-caps
Contentedly to bed. Sometimes the fire left alone
Would die, but like as not spiced tongues
Remaining by the hardest on till day would flicker up
He continues to add nuances and layers of meaning without leaving his image, until the stirring end.
Georgia Douglas Johnson lived in Washington, D.C., but her salon became an important meeting place for writers of the Harlem Renaissance. Her poems more than any others I read evoke the despair that comes from constantly having your dreams deferred, as Langston Hughes put it. Being a woman in a male-dominated society is hard enough, but is magnified exponentially by the intersection with race and class. Here is her poem "The Heart of a Woman":
The heart of a woman goes forth with the dawn,
As a lone bird, soft winging, so restlessly on,
Afar o'er life's turrets and vales does it roam
In the wake of those echoes the heart calls home.

The heart of a woman falls back with the night,
And enters some alien cage in its plight,
And tries to forget it has dreamed of the stars
While it breaks, breaks, breaks on the sheltering bars.
The ambivalence introduced by the last two words—that bars not only confine but also shelter—harkens back to McKay's difficult love for "this cultured hell". They, along with my memories of the movements of the 1960s and 1970s (Civil Rights, Anti-War, Women's), remind me that times of great change may involve destruction but are fueled and formed by love.
Go to the website and explore their work. More next time.
What poets of the Harlem Renaissance have you read?