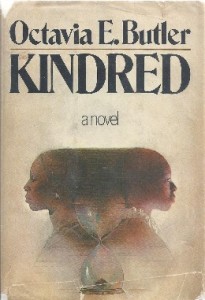 I'd heard so many good things about Butler's work, and especially this early (1979) stand-alone novel of hers, and I was not disappointed. I was a little surprised, because it was not the science fiction novel I expected, given that is how it is classified. No matter. I was entranced and changed by the story it actually tells.
Kindred is the story of Dana, a modern-day woman of color who is mysteriously transported back to a pre-Civil War slave plantation. Not only is Maryland's Eastern Shore a far distance from her home in Los Angeles, in time as well as miles, but it is a shockingly unfamiliar culture.
She sees a young red-haired boy who is drowning and rescues him. Apparently, she has been drawn back by Rufus's fear of dying. She continues to move between the past and present, something neither she nor Rufus has conscious control over. Time moves faster in the past, so she encounters Rufus at different ages. Dana's white husband Kevin also gets drawn back with her at one point, and his experiences highlight how much Dana's changed status is due to her gender as well as her skin color.
What is astounding in this book is the way Dana comes up against the small and large ways that life is different for her in Rufus's world. No matter how much I've read of histories and novels and slave narratives, no matter how many museums and former plantations I've visited, nothing brought home to me the live of a slave the way Dana's experience does.
Why? Partly of course that's due to Butler's extensive research. Even more, it's due to her vivid writing—the strong characters, the plot that never stops, the high stakes, the familiarity in her use of slave narratives as story structure.
But most of all it's because Dana is me. The differences in our race and cities mean nothing compared to our common culture. Experiencing the indignities, injustices, and downright torture of that life through Dana's frame of reference opened my eyes in a new way to the abuses of slavery. Here is a woman who expects to wear pants, be able to read a book and write a letter, speak up for herself and demand justice, even to go where and when she pleases. Deprived of all that, powerless, considered property, something less than human, without even the survival mechanisms other slaves have learned, Dana must find a way to endure her trips back in time.
There are many lessons here for fiction writers. One is the use of voice. Dana's modern-day narrative voice reinforces the connection with the reader while emphasising how far away she is from the time of slavery. This is starkly apparent when she is forced to put on a slave-voice to protect herself.
Another is not only the importance of research, but how to use it effectively. It is clear that Butler has done her research well, not only into antebellum plantation conditions, but also into slave narratives and historical accounts of slavery. Yet, she employs that research lightly, including details only as appropriate for plot and character. For example, at one point when she's back in Los Angeles, Dana throws away her books on African-American history because she now sees the flaws and gaps in their depiction of slavery. I expect Butler could have listed texts and quoted examples, but wisely refrained.
Yet another lesson is for fiction writers looking for a new way to write about a common theme. I think of it as the what-if game. What if you took a classic western and put it in a different setting, maybe outer space? You might come up with Firefly or Star Wars. What if you took a classic vampire story and used a different—even implausible—protagonist? You might have Buffy the Vampire Slayer or Twilight. What if you took one of your own experiences and gave the protagonist different characteristics from you (good, bad or both) or a different time period or a different culture? How might that story play out?
Or you can use the tropes of science fiction/fantasy genre to explore modern-day problems by taking them out of the modern day. That is what Margaret Atwood did in her classic The Handmaid's Tale. And it is how Octavia Butler shows us that, instead of papering over them, we in the U.S. must confront the ugly crimes of our past in order to move forward.
Have you read any of Octavia Butler's books? What did you think of it?