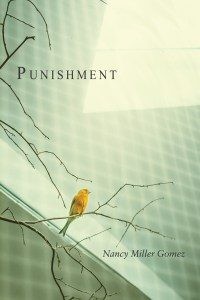 Gomez's book, part of the Rattle Chapbook Series, grew out of her experiences teaching poetry in Salina Valley State Prison. These are strong poems, often with a twist at the end that pierces your preconceptions.
I was blown away by the title poem, which describes an incident she must have heard about. She enters into it, using strong verbs to detail the happenings and poignant images to rend the heart.
Some poems seem based on observation, such as "Growing Apples" where inmates are excited about a volunteer: a seedling that sprouted "in a crack of damp concrete". They transplant it to a paper cup and visit it throughout the day, stunned by this small miracle. There is no need to articulate what this struggling new life means to them, what promise of grace it holds; we can tell. What a beautiful moment to capture!
Other poems draw power from her imaginative entry into the inmates' lives. In one poem, she describes Lorenzo weaving dream catchers for his fellow inmates out of pillow feathers, paper napkins, dental floss, memories and sounds. The specifics, such as his memory of waking to the sound of his grandmother's canary, draw us in and help us feel the satisfaction of being absorbed in creative work.
The first of two prose pieces, "How Poetry Saved My Life: Part One", describes arriving at the prison and the humiliating scrutiny by the guards at the checkpoints. This is perhaps my strongest memory of teaching in a prison myself, and she captures it both vividly and accurately. She goes on to recount poignant moments when men in the safe space afforded by her class are able to drop their prison machismo and show tenderness and concern for each other.
In Part Two, Gomez tells further stories of the changes wrought by poetry in the lives of these men and their appreciation. One man, Manuel, says, "'I want to share this with my children.'"
Unfortunately, these prose pieces are also the least successful part of the book. It seems to me presumptuous to talk of poetry saving your life because it helped you heal from the shame of participating in reality television, when at the same time you are working with men who know firsthand and experience every day many very real threats to their emotional and physical lives.
Still, given its slender size, this collection is powerful, its images ones I will not soon forget. It is important, too, for the way it helps those who have not been inside a prison recognise the humanity and potential of those behind bars. And Gomez makes a strong case for the uses of poetry, not just for prisoners but for all of us.
What book have you read that smashes stereotypes?