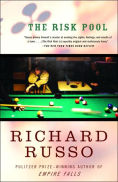 Russo is one of my favorite writers. I've written about his first book, Mohawk. His second novel is also set in that fictional town and like the first is hilarious and true, full of flawed and damaged characters whom Russo treats with compassion even as he details their absurdities.
Ned Hall narrates the story for us. Although he uses the voice of an adult, he enters fully into the thoughts and feelings of his younger self. When he is six, Ned makes the mistake of telling people at school that his absent father was dead, thus bringing Sam Hall back into the lives of himself and his long-suffering mother. As a result, in addition to working at the phone company and raising a boy on her own, Jenny Hall has to suffer incursions that feel like raids by Sam, who manages to stay one step ahead of the local police and their restraining order. Then Sam kidnaps Ned. It's just for an overnight fishing trip, but Jenny has no way of knowing that, and she is waiting for them with a gun.
Of course, my sympathies are with Ned's mother, but this isn't her story. It is Ned's story of his tangled relationship with the father one of whose friends said "should have been issued with a warning label." Like some New Englanders I've known, Sam manages to cobble together a ramshackle sort of life with seasonal jobs, unemployment, local bars, and the occasional girlfriend. His philosophy is that when things start to seem impossibly bad, something would "give": a loan, a job, a lucky bet at the track.
Of course, what Ned really wants is for his father to love him. One of my favorite sections of the book is when Ned goes to live with his father for a few years; the culture shock is there but also the easy adaptability of a child. This coming-of-age story continues into Ned's adulthood and beyond. Their curious relationship is epitomized by Sam's usual "Well?", expecting Ned to catch up on his own, without any parental guidance. Ned sees through his father, even at an early age noting the way Sam takes over a conversation about Jenny's breakdown, and concluding "It will always be his story, about how he hadn't believed it could be true."
Even though Mohawk is in upstate New York, it and its denizens remind me so much of the milltowns I knew in Massachusetts that I kept forgetting where we were. It reminded me of Andre Dubus's memoir Townie , both in its setting—in Dubus's case Haverill, Massachusetts—and in the story's focus on his relationship with his absent father. I also loved the way Sam's friends, some of them stable but more of them disreputable, watch out for Ned and try to help him. This aspect of the book reminded me strongly of J. R. Moehringer's memoir The Tender Bar. While Russo's book is fiction, it has the strength and power of these memoirs. I admit to being a bit fascinated by these books about men and the way they are together when there are no women around. These stories depict a tenderness and a supportive web that are at odds with the stereotypes.
What coming-of-age story have you read that resonated with you?